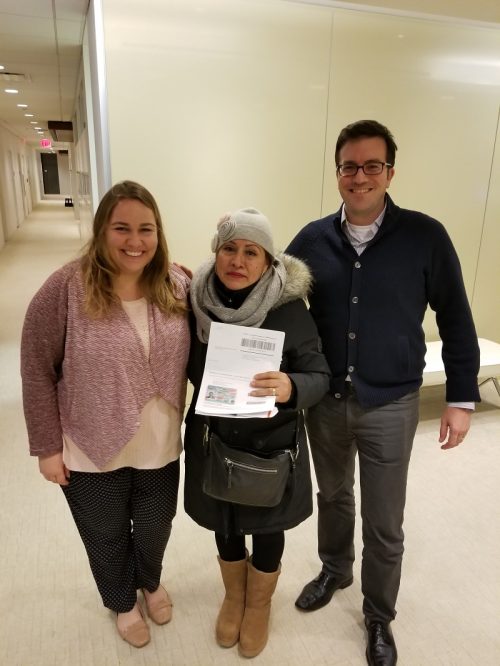 Alejandra's Justice
Abused and abandoned in the US, Alejandra had no legal status and nowhere to turn
Originally from Mexico, and with over a decade of living and working in the US behind her, Alejandra married a United States citizen from Puerto Rico. This qualified her to apply for permanent residency with her husband as the sponsor. However, after subjecting her to several years of escalating physical threats, emotional abuse and infidelity, Alejandra's husband abandoned his efforts to pursue legal status for his wife, returned to Puerto Rico and cut off all contact with her. She has not heard from him since 2016.
Alejandra's dilemma was further complicated by the fact that her father had suffered a stroke in Mexico and become paralyzed on one side of his body. She had not been back home to see her family in 20 years, but without legal status, she feared she would be unable to return to the US, where she has a son — a US citizen.
Milbank, Tweed, Hadley & McCloy LLP volunteers build solid immigration case
Her Justice, working together with long-time partner Milbank, Tweed, Hadley & McCloy LLP, identified a Spanish-speaking legal assistant, Leana Divine, and an attorney, Bodie Stewart, who were ready to take the case. Milbank has worked with Her Justice clients for more than 20 years on matters including immigration, divorce and child custody. The Milbank team helped Alejandra prepare a 'Battered Spouse Self-Petition' under the Violence Against Women Act (VAWA), which allows abused spouses to request permanent resident status without the sponsorship of their US citizen spouse.
The Milbank team prepared Alejandra's official statement detailing the physically and emotionally abusive history of her marriage, as well as a supporting statement by her son. Through hours of emotionally painful interviews with Alejandra, the team was able to build a solid argument for the self-petition, primarily on the basis of extreme cruelty through emotional abuse. These materials were submitted to the US Citizenship and Immigration Services (USCIS) in May 2016.
Alejandra obtains her freedom
After months of waiting, and a high-stakes interview, the team learned in November 2017 that Alejandra had been granted permanent resident status, which also allowed her the freedom to enter and exit the US at will, and eventually apply for citizenship.
According to her Milbank legal team, 'there were many tears of joy.' Alejandra's son confided that the new status was 'absolutely life-changing for their family.'
*Name changed to protect client privacy