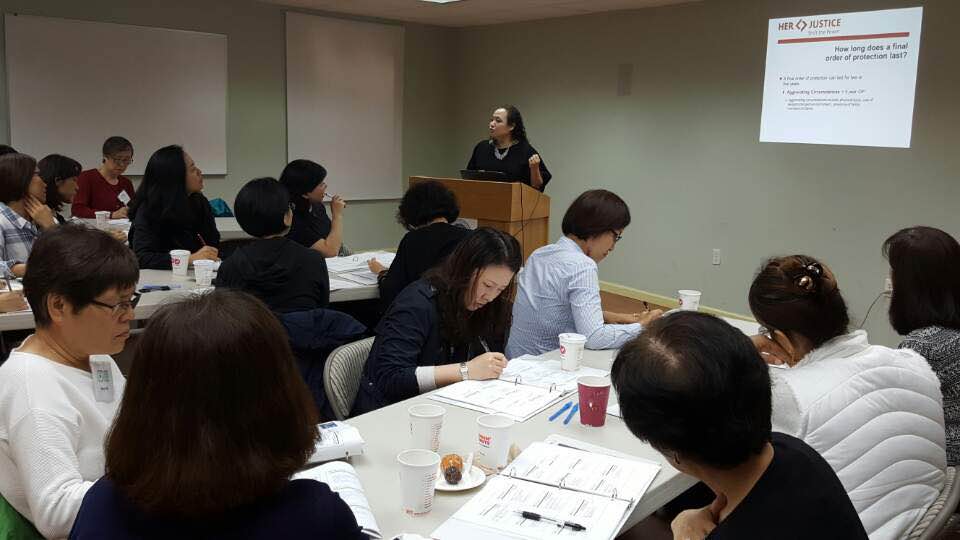 CLE trainings
Her Justice offers free, virtual, CLE-accredited trainings throughout the year in family, divorce and immigration law.
All trainings include the impact domestic violence has on the lives of survivors and the unique challenges faced by immigrants. Trainings also include an interactive question and answer session. Video recordings can be made available for those unable to attend scheduled, virtual trainings. 
Her Justice provides comprehensive manuals containing case law and sample documents are available to pro bono attorneys working on matters referred by Her Justice.
Experienced attorneys may receive CLE credit for viewing or attending trainings.
Experienced attorneys can also earn up to 10 additional CLE credits for representing Her Justice clients, pro bono.
Newly admitted attorneys may only receive credit for viewing live trainings.
Newly admitted attorneys may earn pro bono CLE credit solely for the purpose of carrying over the pro bono credit to the following biennial reporting cycle.
Example Training: Working with victims of intimate partner violence
Who is eligible to attend Her Justice trainings?
Attorneys from large law firms and in-house counsel at corporations who team up with law firm attorneys to represent Her Justice clients are welcome to attend our trainings. In-house counsel should contact us in advance of registering for a training so that we can discuss your participation in our program
Law firm associates and summer associates who have not yet been admitted to the New York State bar may attend trainings and work on a pro bono matter under the supervision of an admitted attorney from the firm, pursuant to Her Justice's Student Practice Order
Your commitment
Attorneys who attend Her Justice trainings, or request access to our video trainings, commit to take on a pro bono matter, individually or as part of a team of two or more attorneys
Experienced Her Justice staff attorneys mentor and consult with pro bono teams throughout the course of the representation
Pre-registration is required for all trainings.
Contact Her Justice for more information
[email protected] 
Upcoming CLE Trainings
Summer Associate Program
Please register at the links below if you wish to attend one of these trainings. Registration is mandatory for all trainings.