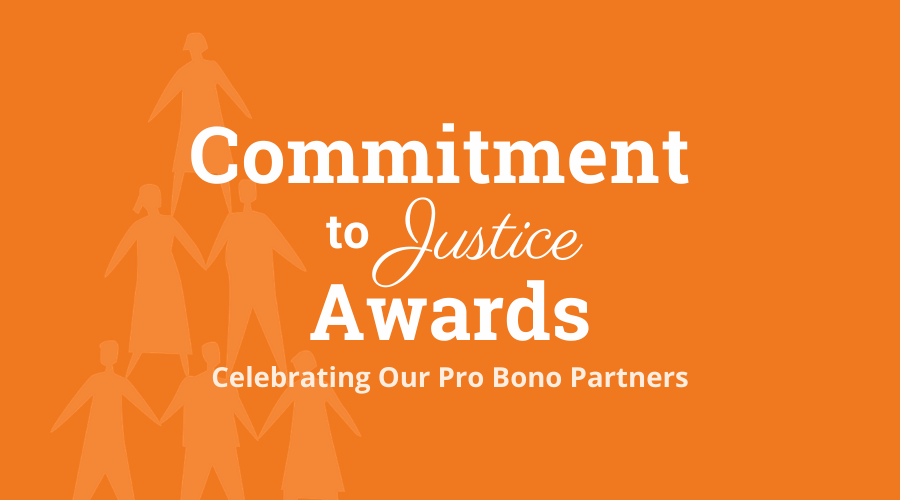 2020 Commitment to Justice Awards
Every year Her Justice celebrates the New York City legal community's commitment to volunteerism, highlighting the very real impact legal relief can have for New York City families.
Celebrating volunteerism
Last year, with your support, Her Justice secured life-changing results for 8,650 women and children, thanks to the dedicated work of 2,089 legal volunteers who provided nearly 78,000 hours of service.
2020 Award Recipients
Law Firm Award
Kramer Levin Naftalis & Frankel LLP
Her Justice presents the Law Firm Award to only one firm per year. This honor recognizes the firm's outstanding contribution to access to justice and a willingness to go above and beyond to achieve the best outcomes for its clients. The Law Firm Award also represents a demonstrated firm-wide commitment to pro bono legal service and overall outstanding pro bono coordination, including excellent internal support for pro bono attorneys.
"For over two decades, Kramer Levin has been a strong supporter of Her Justice's important work in giving a voice to New York's most vulnerable. Our attorneys have fought zealously for the rights of low-income women, at the same time gaining valuable professional development skills and building strong relationships."
Jamie A. Porco, Esq., Associate Director of Professional Development and Pro Bono Kramer Levin Naftalis & Frankel LLP
Her Justice is proud to present the 2020 Law Firm Award to Kramer Levin Naftalis & Frankel in recognition of its outstanding firm-wide contributions in both immigration and family/matrimonial law. Kramer Levin has been a committed partner in our work for more than 20 years.  The firm has represented clients referred by Her Justice in nearly 200 family, matrimonial and immigration matters, empowering women to achieve safety and financial security and to create a better future for themselves and their children. Kramer Levin is a model for leveraging and expanding lawyers' own expertise to provide pro bono services for women living in poverty.
Over the past year, Kramer Levin lawyers have gone above and beyond to support the mission and goals of Her Justice by engaging in the need for holistic advocacy for their clients and providing representation in multiple legal matters. The firm also supports the newly launched Her Justice Marital Debt Project, which addresses the intersection of economic insecurities arising from divorce and debt, by sponsoring an Equal Justice Works Fellow, taking on numerous, complex, litigated divorces, and hosting multiple legal clinics.
Kramer Levin also provides outstanding language access to clients by representing and providing in-house interpretation in multiple languages, including Mandarin, Urdu and Spanish, for women whose primary language is not English.  The firm is also expert at coordinating internal supervision and support for its pro bono teams in order to build in-house expertise and proficiency in family/matrimonial and immigration law.
Kramer Levin always puts the clients' needs first, as evident in its willingness to take on family and matrimonial matters that developed in a case following an initial immigration matter. This is particularly constructive for clients in terms of continuity, and helps them feel overall more comfortable and familiar with the legal process and their volunteer attorneys.
Partner Award
Geoffrey Secol, Esq. – Akin Gump Strauss Hauer & Feld LLP
With the Partner Award, Her Justice recognizes a law firm partner who is dedicated to pro bono work and who fosters an environment at the firm that is receptive and committed to pro bono service. Without Partner leadership and support, pro bono programs could not thrive. Partners provide valuable supervision on cases and, by their example, encourage others to volunteer. Their commitment to pro bono work also sends a powerful message to their colleagues about the importance of pro bono service within the culture of the firm and the transformative impact that volunteer attorneys can have on the lives of people living in poverty. 
"Working with women who have suffered abuse, are living in poverty and are trying to deal with important and complex immigration issues, who I would not otherwise be introduced to without Her Justice, is extremely rewarding.  As a son, husband and father, it is an honor to be able to serve disenfranchised women and enable them to better understand and assert their rights. I am thankful to Her Justice for allowing me that privilege."
Her Justice is proud to present the 2020 Partner Award to Geoffrey Secol, Partner at our longstanding Corporate Partner firm, Akin Gump. This award is in recognition of Geoffrey's exemplary dedication to the clients he represents in immigration matters, and his unfailing commitment to ensuring that they obtain the best possible outcomes.
While law firm Partners are typically custodians of their firms' relationships with Her Justice, ensuring that the partnership is well managed, Geoffrey is not only an excellent steward, but he is unabashedly hands-on. Interested in the details of each case, and determined to achieve excellent outcomes for each of his clients, Geoffrey serves as an outstanding role model for his young associates who learn from his example and readily see the importance of pro bono service, as reflected in Geoffrey's commitment.  In turn, they are inspired to produce their best work and to provide him with their utmost support.
In addition, Geoffrey's humanity is humbling— he empathizes completely with his clients and understands the trials they are forced to endure in the current climate of ever-changing immigration policy and anti-immigrant sentiment. Geoffrey is also a true leader, providing valuable support for the firm's pro bono program, instilling in others the importance of pro bono service and skillfully serving underserved women and children in our community so that they have access to the justice they deserve.
Legal Team Awards
Her Justice presents the Legal Team Award to a team of volunteer attorneys who go above and beyond for their client, whether it's obtaining much-needed financial support for their client, creating legal precedent or finding an ingenious way of prevailing.  Her Justice honors the award recipients for their extraordinary dedication to reaching the best possible outcome for their clients.
Svein Hoexter, Esq., M. Elaine Johnston, Esq. and Puja Patel, Esq. – Allen & Overy LLP with Jennifer Shiffman, Esq.- Her Justice volunteer
Originally from Senegal, Haniah petitioned by herself to remove the conditions from her permanent residence status (green card) based on her marriage—conditions that, under immigration law, last for two years  in order to ensure that the marriage was in good faith.  She was trying to get out of an abusive marriage, and, therefore, tried to remove those conditions through an abuse waiver. Unfortunately, Haniah's petition was denied. That's when she came to Her Justice for help. 
"We are so thrilled to receive this team award.  It is a privilege to work with Her Justice and help women on their journeys to self-empowerment."
Her Justice discovered that Haniah also had a pending divorce against her abusive spouse. As a first step, Her Justice volunteer attorney Jennifer Schiffman laid the ground work for the immigration case by taking steps to correct some of the filings regarding Haniah's divorce.
While Jennifer worked to perfect Haniah's divorce filing, the legal team at Allen & Overy filed a petition to remove the conditions on her permanent residence status, based on a good faith marriage and subsequent divorce.
When Haniah's immigration interview was scheduled, the team's dedication became immediately apparent. Haniah's interview was scheduled in Buffalo, as she had previously lived near Buffalo.  One of the team members, Puja Patel, volunteered to fly to Buffalo to accompany Haniah during her interview. Puja and Haniah attended the interview together and provided the immigration officer with proof of Haniah's final divorce.
Since Haniah's permanent resident status was backdated to the first date of her conditional residence, she was able quickly to file for, and obtain, naturalization, again with the help of her attorneys at Allen & Overy.
Haniah essentially went from being in an abusive marriage, without status and faced with the possibility of deportation, to finalizing her divorce, obtaining permanent resident status and quickly becoming a U.S. citizen.  Despite her legal team's brilliant management of all the many aspects of Haniah's case, her spouse continued abusing and manipulating her during the legal process, leaving her attorneys at times unable to move forward with the case.  Their patience, 'can do' attitude, and successful outcome for Haniah exemplify their exceptional commitment to helping their client achieve freedom from abuse, the legal status to which she was entitled, and a more hopeful future in the United States.
Jamie Cohn, Esq., Janice Mac Avoy, Esq. and Leigh G. Rome, Esq. – Fried, Frank, Harris, Shriver & Jacobson LLP
Originally from Haiti, Rosaline is an undocumented, married mother of two young children. She married a U.S. citizen and suffered severe emotional, sexual and physical abuse throughout the relationship. He threatened her with deportation and to have the children taken away from her. Out of spite, her husband filed for an order of protection against Rosaline, and was granted a limited order. After he filed for the order of protection, he went back to the house and raped Rosaline.
"We are so proud to work with Her Justice, empowering women, giving them a voice and the strength to stand up for themselves.  Knowing that we have played a role in improving the most important area of a woman's life — giving her freedom in her family life — is incredibly rewarding."
Her Justice assisted Rosaline with amending the family offense petition and she was granted a full stay away temporary order of protection. This is when the Fried Frank team stepped in and went to work. They spent days preparing Rosaline for the hearing since they knew her husband would go to great lengths to intimidate her.  In fact, he made all kinds of allegations during the trial, even bringing in a voodoo priest to intimidate her. The abuser's attorney objected to everything, which made the situation very tense and difficult for both the legal team and Rosaline.
Eventually, the Judge granted Rosaline a five-year order of protection, based on the finding of aggravating circumstances, reflecting the severity of the abuse. As a result, the legal team was able to obtain a certification from family court that enabled Rosaline to request immigration relief—an outstanding result for which the legal team fought very hard.
It is due to the tremendous preparation and persistence of the Fried Frank volunteers that Rosaline was not only successful in asserting her rights and removing herself from an abusive relationship, but was also able to pursue a path to legal residency in the United States—a critical benefit that will help her secure a better future for herself and her children.
Rosaline was elated with the results.  She stated, "I was very depressed and felt powerless, but the team has empowered me and allowed me to find peace where previously there was only turmoil." The Fried Frank team delivered a better outcome than she could ever have hoped for.
Angela M. Gil, Esq. and Zachary Kerner, Esq.– Holwell Shuster & Goldberg LLP
Originally from the Dominican Republic (DR), and a lawful permanent resident in the U.S., Alicia is a 47-year-old mother of two young children whose husband, and the father of her children, is a U.S. citizen.  A survivor of intimate partner violence, she obtained an order of protection against her husband and he left their home. Alicia came to Her Justice to pursue a divorce and settle their assets.  A team from Holwell Shuster & Goldberg agreed to represent Alicia pro bono. 
"At Holwell Shuster & Goldberg, our lawyers have a long history of providing pro bono representation in matters ranging from class-wide civil rights litigation to habeas corpus petitions on behalf of indigent plaintiffs, including high-stakes commercial, immigration, and domestic relations matters.  Our partnership with Her Justice is an important component of our firm's commitment to pro bono work and we are proud to play our part in furthering Her Justice's mission to ensure that women living in poverty in New York City get the legal representation they need and deserve."
Alicia and her husband co-owned property in the DR and it was extremely difficult to evaluate real estate outside the U.S. Since Alicia wanted to leave the marriage and to have nothing more to do with her husband, she agreed to waive her interest in the properties and to seek only her marital share of the husband's pension. This is where the Holwell Shuster & Goldberg attorneys rolled up their sleeves and demonstrated their determination to achieve the best outcome for their client, and the tremendous advantage of legal representation—an advantage that would change Alicia's future.
The volunteer attorneys insisted that Alicia had a legal right to her fair share of the marital assets—that she was entitled to more than just half of the pension.  They went to work and, during the discovery stage, identified the various properties in the DR, for which they obtained appraisals, and convinced the husband's attorneys to agree to the introduction of those valuations into evidence.  Not only did they obtain assessments of all the DR properties, they also discovered an apartment in the Bronx about which Alicia knew nothing.
The legal team ensured that Alicia received her share of the pension AND her husband's 401K account, and was also able to negotiate a settlement on the eve of trial which included child support and maintenance.  Through their tireless advocacy, her attorneys prevailed, despite being berated and mistreated by the husband's attorneys, and they ensured that Alicia received so much more than she had dreamed of in the beginning.
The volunteer legal team could not have reached a better outcome for their client.  Their impeccable research, tenacious approach and belief that they could prevail even in the most difficult situations, ensured Alicia's financial security. Her lawyers clearly demonstrated extraordinary dedication to their client and achieved the best possible result for Alicia and her children.
Mehreen Ahmed, Thomas W. Dollar, Esq., Dora Georgescu, Esq., Derek Steingarten, Esq. and Thomas Warns, Esq. – K&L Gates
In 2016, this legal team from K&L Gates filed a Violence Against Women Act  Self-Petition and Application to Adjust Status for their client Erika, an immigrant from the Dominican Republic (DR) who had been in an abusive relationship with her U.S. citizen husband. Erika was seeking to legalize her own status in the U.S.  Wait times can be very long between the time a petitioner requests legal status and when she is granted permanent residence (green card).  
"Her Justice was a great partner in our team's success on behalf of our pro bono client. We pushed through many obstacles in a challenging immigration case, and Her Justice was with us shoulder-to-shoulder at every key decision point."
The legal team at K&L Gates was particularly worried about the wait time in Erika's case because her father was extremely ill in the DR, and green card applicants are not allowed to travel outside the U.S. unless they receive advance permission. In addition, Erika's family had given her tickets to travel back to the DR to visit her ailing father, and the legal team was worried that she would never receive permission in time to see her father.
Keen to reunite Erika with her sick father, the K&L Gates attorneys were ready to do everything in their power to speed up her interview process. They made every effort to move things forward, continually inquiring about Erika's status and contacting the U.S. Citizenship and Immigration Services to inquire about the scheduling of her interview. They even approached Congress Member Alexandria Ocasio-Cortez, in whose district Erika resides, for assistance in expediting her green card interview. Fortunately, in October 2019, Erika received an interview date, her application was approved, and she received her green card just before her flight, enabling her to visit her sick father in time for the holidays.
Her Justice commends the K&L Gates attorneys for their outstanding compassion for their client and their determination to do everything possible to get Erika's case heard and to reunite her with her father.
John K. Geiger Award
Elizabeth C. Carter, Esq. – Stroock & Stroock & Lavan LLP
This award is presented in memory of John K. Geiger, who passed away at a young age. John volunteered at Her Justice for many years, first as a paralegal, then as an attorney. He demonstrated an unyielding compassion and dedication towards his clients. John also brought his enthusiasm for this work to everyone he encountered, especially other attorneys at his firm, urging them to become involved with Her Justice.
"Volunteering with Her Justice is extremely gratifying and inspiring and makes me feel like I CAN make a difference.  I believe that empowering women to successfully navigate the courts can have a ripple effect in their lives, on their families, and their community, such that my efforts can extend beyond my clients and help to contribute to greater change."
Her Justice is thrilled to present Elizabeth Carter with the John K. Geiger Award – for those attorneys whose commitment to their clients, Her Justice and pro bono work is outstanding. Elizabeth exemplifies this through her active involvement with Her Justice, her dedication to, and understanding of the needs of, her clients, and her efforts to deepen further her firm's pro bono engagement.
Elizabeth began working with Her Justice on a client's child support and custody/visitation cases in 2010 and has represented 12 clients in a total of 24 matters over the last 10 years. She is in her second term as a member of the Her Justice Junior Advisory Board (JAB), served on the Event Committee for the JAB's Red Party in 2017, participated in our Strategy Summit in January providing valuable input on our newly launched policy platform, and now is planning a private shopping event to benefit Her Justice with NYC-based designer Aysha Sayeed.
Elizabeth distinguished herself in her family and matrimonial cases by her ability to understand deeply the issues faced by women living in poverty, and to relate to, and bond with, her clients. In her determination to obtain justice for them, Elizabeth pulls out all the stops, but she also understands the systemic barriers inherent in the legal system. She has nimbly positioned her firm as our partner in reform, working with us on our court watching project to address these systemic legal barriers.
Elizabeth's advocacy on behalf of women living in poverty does not stop there.  She encourages her firm to invest the resources and time needed to achieve the most positive outcomes for its pro bono clients, such as engaging forensic accountants and investigators to discover hidden income to enhance child support awards. Elizabeth truly shines through her on-the-ground mentoring of young associates, which fosters the longevity and sustainability of Stroock's pro bono initiatives. In fact, Stroock's approach to pro bono work is a model for other firms to follow. Overall, Elizabeth's empathy for her clients, commitment to improving their lives through the legal system, and drive to expand her firm's pro bono efforts have contributed greatly to her clients' well-being and to the strength of Stroock's longstanding partnership with Her Justice.
Deborah E. Smith Award
Karina Ureña – Kasowitz Benson Torres LLP
This award is presented in memory of Deborah E. Smith, a Pfizer legal assistant, who took a leading role in Her Justice divorce workshops many years ago.  It is awarded to an individual, most often a paralegal or other support staff member, who has demonstrated a similar dedication to the empowerment of women.
"Her Justice allows me to be part of a voice that speaks up for those who are not in a position to speak up for themselves.  At the same time, it allows me to be part of the healing process for all those who have experienced trauma.  Her Justice allows me to be the hand extending out to pick those up. I find it to be a rewarding experience."
Her Justice is thrilled to present the Deborah H. Smith Award to Karina Ureña, former paralegal at Kasowitz , in recognition of her diligence and dedication to working with her clients.  Often the paralegal's role goes unnoticed—as they are constantly working behind the scenes.  Yet they play a pivotal part in ensuring that all processes in the case run smoothly and that the attorneys have the information they need.
Apart from her all-round excellent service as a paralegal, Karina has been instrumental in overcoming one of the most challenging obstacles in client service—the language barrier.  As a result of Karina's abilities to translate and interpret in Spanish, she has enabled Kasowitz to take on some of the most difficult immigration cases.  Karina cares very much about her clients and plays a critical role in helping them feel at ease and comfortable in all situations.
Language Access Award
Victoria Guo, Esq. – Allen & Overy LLP 
The Language Access Award is bestowed upon the individual, team, law firm, or corporation that enables clients with limited proficiency in English to access the legal system. This award recognizes volunteer service that extends our reach to non-English speakers—including both translation of materials and interpretation services.
"Her Justice has given people throughout Allen & Overy exposure to some of the most inspiring clients we have come across.  Being able to partner with Her Justice to serve these women is a privilege that we do not take for granted."
Half of New York City residents speak a language other than English at home.  People with limited English language proficiency are twice as likely as the general population to live in poverty. Fifty-three percent of Her Justice clients were born outside the United States and 35 percent of our clients need an interpreter to access the courts. These demographics alone point to an overwhelming need for materials and legal services in languages other than English.
We are proud to present the Language Access Award to Victoria Guo, Associate at Allen & Overy LLP.  Victoria's work on a Violence Against Women Act (VAWA) immigration case with Chen, a Mandarin-speaking client, was exceptional. Not only was Victoria an excellent interpreter and translator, but she also went out of her way to build trust with Chen and to ensure that she was comfortable enough to tell her story. This was especially critical after Chen had an upsetting experience with an online service interpreter who actually yelled at her.
U.S. Citizenship and Immigration Services (USCIS) was particularly difficult in this case, sending two requests for more information, challenging the eligibility of Chen's application, and even questioning her good moral character. The prolonged sessions and delays with USCIS meant that Victoria had to commit to be present for numerous client meetings and urgent document translations throughout the entire nine months of the case.  Yet every time, Victoria was ready and willing to jump into action.  Her interpreting proficiency was only matched by her compassion for Chen, as Victoria helped turn a very difficult process into a much smoother experience for her and achieved the ultimate victory—the VAWA application was approved and Chen is now eligible to pursue her application for a green card.
In-House Volunteer Award
Maria C. Mostajo, Esq.
In-House Volunteer Awards are given to Her Justice volunteers who provide their expertise on a regular basis, and who distinguish themselves by their ongoing commitment, excellent work ethic and selfless dedication to Her Justice and our clients. 
"It has been clear to me since day one at Her Justice that our clients and their families are our first priority. I am most impressed by the compassionate manner in which our attorneys pursue life-changing solutions to the challenges facing women in tough situations, including abuse and poverty."
When we think of volunteers at Her Justice, we usually refer to our attorney and professional volunteers outside our office.  However, it always gives us great pleasure to recognize our in-house volunteers, those who use their skills and expertise to provide invaluable support to our legal staff and help to ensure the well-being of our clients.
Maria Mostajo is just that type of person.  No task is too big or too small.  She is always available and ready to help, takes everything very seriously, and does a thorough job with it all.  Maria began volunteering with Her Justice in November 2018 and her continued dedication is an inspiration for all of us at Her Justice.
Very diligent in her work and always one to go above and beyond expectations, Maria is exceptionally good at deciphering criminal records, which is very important for the immigration practice. A former Assistant District Attorney, she is very helpful in cases where there are criminal convictions, and has used her skills to create detailed analyses that help to paint the full picture for the attorneys.
Maria also cares deeply about the client's experience when trying to problem solve – she even accompanied one of our clients to court because she felt that the client needed that emotional support.   In addition, beyond her day-to-day assigned work, Maria is known for her thoughtful gestures, such as bringing in gently used clothing for clients.  Keen to welcome new challenges, Maria is always willing to help out in any way she can.
Special Award
Jonathan Levy – Just Add Water Inc.
Her Justice presents a Special Award to recognize outstanding contributions from individuals or organizations whose involvement demonstrates a strong commitment to pro bono work and the advancement of our services to clients.  
"I'm happy that Her Justice has given me the opportunity to use my commercial video editing skills to assist them in the amazing work they do in helping women navigate and succeed in the legal system, where if you don't have a lawyer, you're sunk."
Her Justice is thrilled to present the Special Award this year to Jonathan Levy, Vice President and Editor at Just Add Water, a film and video post-production company.  For almost two years now, Jon has been meticulously editing our long, three-minute videos into smaller, bite-sized 30-second pieces that we can use in presentations and trainings and post on our social media feeds and other platforms where we want to convey quickly and effectively who we are and what we do.
In many organizations, communications can often be an afterthought, but for a nonprofit like Her Justice, our visual assets are an integral part of who we are, enabling people to better understand our work.
They tell our story. They captivate people with their emotional appeal and enable our stakeholders to connect with us more deeply. Jon's editing brings our work to a much broader audience and engages individuals who, in turn, engage with us as donors and supporters.
We are extremely grateful to Jon and Just Add Water for giving his time and his artistic talents to help tell the Her Justice story—a different way to serve our clients.
---
Special thanks
A heartfelt thank you to Her Justice Board Member Drew Fine, Esq. and Milbank LLP for generously hosting this event.