Immigrant Survivor Employment Access Project
The Immigrant Survivor Employment Access Project aims to provide direct legal services and policy advocacy on behalf of immigrant survivors of gender-based violence so that the process for issuing employment authorization documents is as efficient as possible and immigrants obtain safe and stable access to the job market, empowering them to support their families and achieve economic independence and stability.
"Having a work permit, gives a sense of independence.  I…feel like I'm a part of society…
Once you have work permit, people won't take advantage of you."
                                                                                                                      —Her Justice Client
Who We Are
Her Justice stands with women living in poverty in New York City by recruiting and mentoring volunteer lawyers to provide free legal help to address individual and systemic legal barriers. One major barrier is immigration status. Her Justice serves women who have experienced domestic violence, or other types of gender-based violence, and who are seeking to stabilize their immigration status in the United States.
For over 28 years, Her Justice has served immigrant New Yorkers and, since 2005, we have represented immigrant survivors of gender-based violence with a broad range of immigration remedies under the Violence Against Women Act (VAWA), including VAWA Self-Petitions and Battered Spouse Waivers and applications for U and T Nonimmigrant Status, green cards, work permits and citizenship applications.  The need for work authorization and employment are especially important for victims of violence, for whom a job is not only a source of livelihood but a way to escape abuse.
Our clients live in all five NYC boroughs and are among its most vulnerable residents.  Approximately 75% are survivors of domestic or other gender-based violence and more than 90% are members of an underserved population, often isolated by language and culture.  More than one-third cannot access the legal system without an interpreter.
The Why
From experience, we know that the first critical stage in the process to obtain lawful permanent residence status that makes a significant difference in the quality of life, safety and stability of our clients and their children is getting employment authorization, enabling them to work legally in the U.S. This can take up to five years.  Our qualitative research shows that immigrants who receive work authorization become part of the country's economic engine.  The extended wait time during which they can neither work nor afford school severely limits their ability to achieve independence and safety.
Having work authorization means that:
Survivors can leave abusive relationships knowing that they can obtain employment legally and safely.
Survivors don't have to return to abusive situations in order to obtain basic necessities.
Survivors' employment is more stable and safer.
If they lose their jobs, they can access unemployment insurance and other benefits to maintain family stability.
They receive Social Security cards, feel more a part of society and are more likely to access institutions such as courts, social services, medical care and education.
Immigrant survivors have more stability, safety, confidence and participation in society.
In 2018, we conducted a survey of our immigrant clients, asking about the impact on their lives and their children's lives of a delay in access to work authorization.  We analyzed and quantified the economic, physical and psychological advantages of obtaining an employment authorization document (EAD). From our preliminary findings, we learned that women working without authorization are paid less and are more susceptible to exploitation and harassment on the job, which can be especially harmful for trauma survivors. We are eager to deepen this research through the Employment Access Project.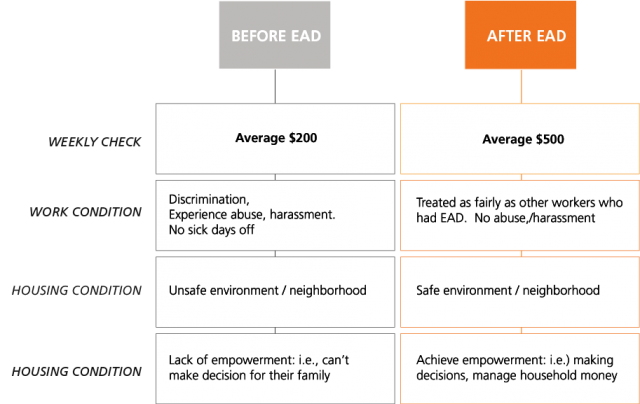 The How:
The Project addresses the needs of immigrant survivors holistically by:
Providing direct legal services, including applying for employment authorizations, and supportive social services

Engaging in advocacy to effect systemic change so that access to work authorization continues to be available and becomes more efficient, despite proposals to impede access

Enhancing our impact through our community empowerment model by partnering with trusted community-based organizations serving immigrant communities to build their capacity to provide informed services to their clients and combat disinformation and to reach those who need our services most.
Direct legal services
In fiscal year 2019, Her Justice:
• provided information, advice and representation on immigration matters to 1,189 women living in poverty
• secured legal status for 199 women and 326 children
• obtained citizenship for 5 women and 3 children
• attained employment authorization for 75 women and
• mentored pro bono attorneys on 2,632 open immigration matters
After a client attains legal status, Her Justice attorneys continue to work with the client to apply for status for derivative family members, including consular processing family members who live abroad into the U.S., reuniting families.
Through its pro bono and community empowerment models, Her Justice increases significantly the number of immigrants who benefit from reliable information, advice and representation on immigration matters that are vital to their entry into the workplace and long-term security.
Policy & Advocacy
We work to ensure immigrants' meaningful access to employment authorization. Her Justice joined a coalition of immigration advocates to demand that USCIS automatically extend work authorization status until the COVID-19 crisis is over and urge the inclusion of immigrants in federal stimulus bills so that survivors' livelihood and eligibility for benefits are protected at a time when they need them most. We are also advocating to reduce USCIS adjudication delays that have resulted in lengthy waiting times for employment authorization.
We began our survey of immigrant clients to further our understanding of immigrants' needs, analyze economic justice issues affecting immigrant women survivors of violence and enhance the services we provide them. Through the Project, we will continue to analyze the qualitative results and leverage our findings to inform policy change to benefit immigrant survivors.
Community Empowerment Model
In addition to providing essential, direct legal services to immigrant survivors of gender-based violence, we partner with trusted community-based organizations serving immigrant populations throughout New York City by:
Conducting information and know-your-rights sessions so that immigrant women are informed about their legal rights and civil legal remedies
Providing individualized, direct legal services, including advice, brief services and representation, at legal clinics hosted by our partners, so that their clients obtain the relief to which they are entitled and achieve stability for their families
Training staff at community-based organizations, building their capacity to combat misinformation and understand their clients' legal rights and available legal remedies, and enabling them to inform and advocate effectively for their clients and refer appropriate clients to Her Justice for legal representation
By partnering with agencies trusted in their communities, Her Justice reaches high-need and isolated populations throughout the city to provide life-saving, reliable information and legal resources.
Through interviews with our immigrant clients, we learned how work authorization – and waiting for work authorization – has impacted their lives. Our clients are our biggest teachers, their experiences inform our programmatic practices, policy work and our vision for the future. Let's hear from them.
Ms. J's Story: Waiting for Freedom
Ms. J* came to the United States in 2001 and married her husband in 2003. He has been psychologically and physically abusive since the wedding and the abuse continues to the present day. He has taken her keys, wallet, credit card, cash and phone so that if she left the house, she couldn't come back. During one incident when she was arguing with her mother-in-law, her husband threatened her with a knife.
Ms. J applied for a VAWA self-petition in 2016 and at the time of her interview in 2018, she had not received work authorization. She is college educated but her husband controls the family money. She feels socially isolated, afraid, and economically dependent on her husband because she can't find stable work that pays her enough to be financially independent.
Because she's been unable to get reliable work without work authorization, the only way Ms. J feels she can be financially stable is by relying on her abusive husband who still abuses her to this day. She said that she feels like she has to stay in this relationship until she gets her work authorization but said, "I cannot wait until the day I can divorce him, work, access my own money and live alone."
*name changed to protect client confidentiality
Ms. A's Story: A Financially Independent Future
Ms. A* came to the U.S. in 2013 with her 6-year-old child. Here, she met a man on a dating app who she began seeing regularly and they married in December 2014. They both had sons who were the same age and they looked forward to building a family together with their young children. Two months after marrying, their relationship began to change. Ms. A's husband lost his job and became aggressive and controlling.
His behavior worsened and he started stalking Ms. A and interrogating her on her whereabouts. Ms. A felt economically dependent on her husband because of his control tactics, but she was scared to look for work outside of the home because of her lack of immigration status. She was also nervous that her husband would find a way to stop the green card process or stop her from legally living in the U.S.
Now that she has employment authorization, Ms. A is working fulltime as a medical assistant. She feels financially stable and safe now that she has left her husband. She is seeking counseling for the abuse and is taking a financial literacy course. Ms. A's goal is to go back to school to further her new career.
*names changed to protect client confidentiality
"Broken Promise: Visa Program Leaves Crime Victims In Limbo," Law360
Home
Policy Platform