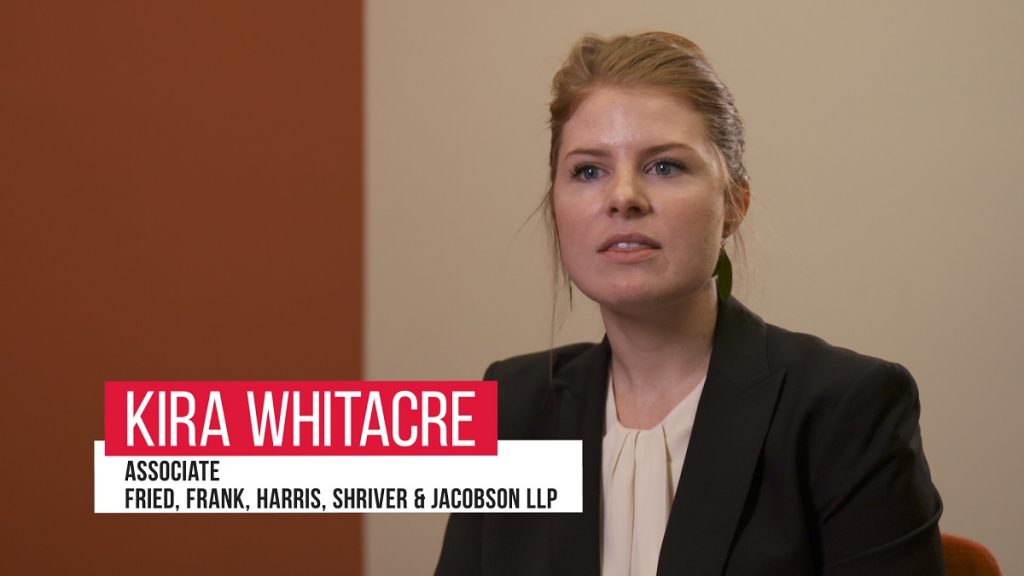 Her Justice pro bono program
Attorneys hone legal skills while working on compelling family, divorce and immigration law matters tailored to your firm's pro bono program.
Pro bono opportunities
Litigated matters in Family and Supreme Court offer excellent opportunities for hands-on litigation experience
Orders of protection
Custody/visitation
Child and spousal support
Litigated divorces
Non-litigated matters involve client interviewing and drafting documents, and are easily accessible to attorneys in all practice areas
Non-litigated divorces
Immigration matters: attorneys secure immigration status and the right to live and work in the U.S. for victims of domestic violence and other crimes through Violence Against Women Act self-petitions and battered spouse waivers and petitions for U Nonimmigrant Status (U visas)
Paralegals and other employees with foreign language skills interpret and translate for the many Her Justice clients who don't speak English.
Kim Koopersmith, Chairperson, Akin Gump, talks about the importance of pro bono and partnerships.
How does it work?
Case placement
Attorneys who attend Her Justice trainings, or request access to our video trainings, commit to take on a pro bono matter, individually or as part of a team of two or more attorneys
Our monthly case digest is sent by e-mail to all our law firm contacts and highlights some of the available cases. There are always more women on our waiting list who need assistance
At any time, you can contact the Her Justice pro bono coordinator assigned to your firm to request a pro bono matter
Roles of the law firm and Her Justice
The firm is the attorney of record on cases referred by Her Justice. You should fully discuss your client's legal issues with her and enter into a written retainer agreement that defines clearly the extent of your professional commitment to her.
Her Justice's experienced practitioners in family, divorce and immigration law are available to act as consultants throughout the representation:
When a case is placed with a firm, a staff attorney from Her Justice is assigned to mentor the volunteer attorneys throughout the course of the representation
Her Justice mentors are available to strategize, answer substantive and procedural law questions, share practical knowledge of the workings of the relevant court system, review documents before they are filed, and provide referrals to social and other services when necessary
We conduct question and answer sessions at firms in addition to providing regular phone and email backup support
Since Her Justice is based on a pro bono model, our attorneys do not accompany volunteer lawyers to court
Volunteer attorneys are encouraged to contact their mentors to discuss their matters and to submit drafts of legal documents to us for review at least one week in advance, if possible
In an emergency, if the assigned mentor is not available, the volunteer may contact any Her Justice attorney for assistance
Her Justice contacts
Each firm participating in our pro bono program is assigned Her Justice contacts to assist in case placement, mentor volunteer attorneys and ensure that the pro bono matters assigned suit your firm's pro bono goals.
Supervising attorneys, our most experienced attorneys, are available to answer questions and address any concerns, and they review all matters before they are placed with your firm to ensure that every case meets your firm's guidelines and the volunteers' interests
Mentors in each practice area are assigned to the firm to provide experienced support so that your volunteers have a positive pro bono experience
Pro bono coordinators are your contacts if you wish to request a pro bono matter, obtain training information or materials, or obtain CLE information or certificates
If you would like us to give a presentation to attorneys at your firm about the opportunities to volunteer with Her Justice, or for more information, contact: legalprogram@herjustice.org
---
Meet Kate