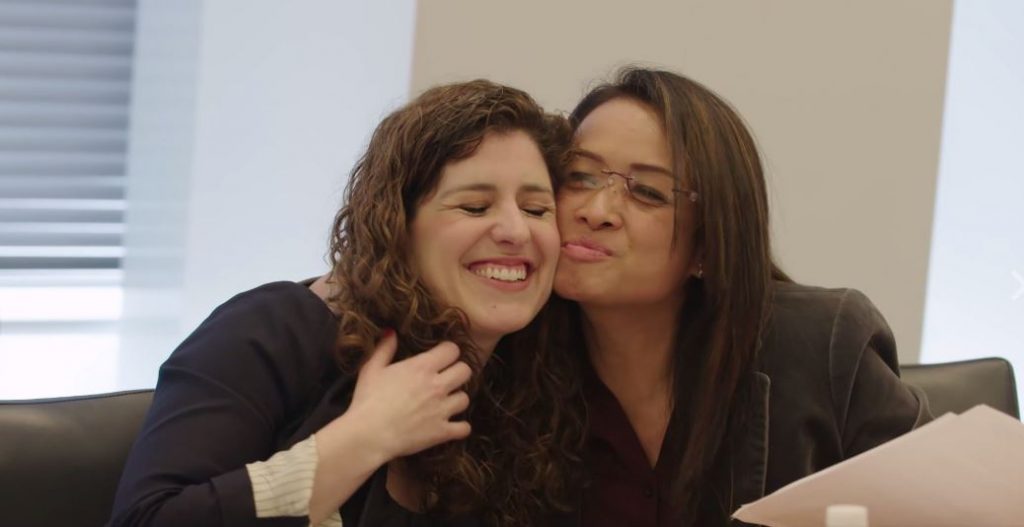 Summer Associate Program
Summer Associate Program for our Corporate Partners
Our summer program offers summer associates a chance to make a lasting difference in the lives of families in need, while enhancing their legal skills and growing in confidence as lawyers and advocates.
The summer associate program was a very rewarding experience, and Her Justice was extremely supportive throughout the entire process.
Download information about our Summer Associate Program
Give your summer associates an opportunity to advocate on behalf of the City's most vulnerable families
The summer program is an excellent opportunity for summer associates and supervising attorneys to work together on challenging and compelling matters, and to experience first-hand the firm's commitment to public service.
Summer associates take an active role representing clients in cases involving at least one of the following:
Orders of protection
Custody and/or visitation
Child and/or spousal support
Uncontested or litigated divorces
Violence Against Women Act Self-Petitions, Battered Spouse Waivers, U Nonimmigrant Status immigration matters (U-Visas), and Adjustments of Status for Approved U Nonimmigrants
Summer associates and supervising attorneys can:
Interview clients
Build attorney-client relationships
Draft and file pleadings and motions
Negotiate with opposing counsel
Interact with court personnel
Develop general litigation skills
Our Appellate Division practice order enables law students to appear and speak on the record in Family Court and Supreme Court, at the discretion of the presiding judge or magistrate, so long as a supervising attorney from the firm, who is admitted in New York State, is present in court.
Earn free CLE credit while supervising summer associates at your firm
Experienced attorneys who are supervising summer associates receive CLE credit for the trainings they attend or watch on video and pro bono CLE credit for the representation. The work that summer associates perform on Her Justice matters also counts toward the 50-hour pro bono requirement for all applicants for admission to the New York State Bar.
The experience of actually meeting with a client and going through the process to be able to advocate for her adequately was invaluable.
Download information about our Summer Associate Program
How does it work?
Teams
One or more summer associates accept a legal matter for representation in late May/early June.
Each summer associate team must be supervised by an associate and/or partner at the firm, admitted in New York, who will be the attorney of record, supervise all work done by the summer associates, and attend all court hearings with the summer associates.
Supervising attorneys are responsible for bringing the matter to conclusion once the summer associates have left the firm. We cannot guarantee that matters will conclude during the summer.
Please note that many of our clients are Spanish-speaking and cannot communicate in English. Many firms staff these matters with paralegals or other firm employees who can serve as interpreters and gain a rewarding pro bono experience. Please let us know if you have any special language concerns or can offer interpretation and/or translation skills in connection with these matters.
Trainings and scheduling
Multi-firm CLE trainings in each of the practice areas are scheduled in late May/early June. Trainings are two or two-and-a-half hours long, depending on the practice area, and include an interactive question and answer session to address issues that may arise.
All summer associates must attend the trainings or watch our video trainings relevant to their assigned matters. We strongly suggest that summer associates attend the live trainings so that they can ask questions about their cases and the substantive areas of the law. Supervising attorneys must attend the trainings or watch our video trainings if they have not practiced in, or been trained in, the relevant practice area. We forward matter descriptions and copies of clients' documents in advance of the training sessions to enable firms to complete conflicts checks.
Firms may request matters of each type. Requests for additional matters beyond the limits specified below will be placed on a waitlist and, to the extent available, additional matters will be provided once all participating firms' initial requests have been satisfied.
Manuals and mentoring
We supply our detailed substantive and procedural practice manuals electronically to firms prior to the trainings so that firms can copy and distribute the manuals in advance to their participating summer associates and supervising attorneys.
Our experienced staff attorneys provide intensive mentoring during the course of the representation until the matter is concluded.
Question and answer sessions
To enhance and complement the summer program, we also offer each participating firm a personalized question and answer session (Q&A) midway through the summer.
The Q&A can be scheduled at the firm for one hour so that summer associates and their supervisors can meet with their Her Justice mentors to discuss their cases and share common issues that arise during the course of the representation.
Depending on the cases handled in the summer, in-person meetings for individual teams with their Her Justice mentors can be scheduled as well.
We recommend booking Q&A sessions well in advance, if possible.
What are the options?
Litigated matters
Family Court—Orders of Protection, Custody/Visitation, Child and Spousal Support 
Summer associates are introduced to an area of family law and practice and see how litigants who are indigent or working poor fare in our city's Family Courts. We select matters with a Family Court appearance scheduled during the summer so that summer associates will have the opportunity to go to court and appear in the case at least once.
Supreme Court—Litigated Divorces
Litigated divorces have issues that need to be decided by a judge, such as equitable distribution of a house or pension, custody, child support or maintenance. Summer associates handling litigated matters will meet with their clients, and prepare and file the initial pleadings. They may see responsive pleadings, prepare an emergency motion for support, participate in the commencement of negotiations with opposing counsel, and attend a court appearance before the end of the summer.
Each firm may request up to 6 Litigated Matters, designating a preference for one or more practice areas. We will try to honor preferences, but firms will be assigned matters based on availability.
Non-litigated matters
Uncontested Divorces
Summer associates are introduced to Supreme Court practice and to the basics of matrimonial law in New York State. Teams handling uncontested matters will meet with their clients and prepare the initial and final pleadings before the end of the summer. There is usually no court appearance for uncontested divorce matters.
Firms handling divorces are required to use the latest version of Drafting Libraries divorce software, which is available for purchase at www.draftinglib.com. Please contact us for further information.
Each firm may request up to 4 uncontested divorce matters.
Non-litigated Immigration Matters
Summer associates working on immigration matters are introduced to basic immigration law concepts and practices, and assist clients in preparing affidavits and supporting documents for filing with the United States Citizenship and Immigration Services (USCIS).

VAWA Self-Petitions and Battered Spouse Waivers enable immigrant women who are domestic violence victims to seek lawful permanent residence in the U.S. for themselves and their children without the permission or assistance of their abusive husbands. After the summer, the firm will be responsible for continuing to represent the client through her grant of adjustment of status. This may involve attending an informal hearing before a USCIS officer.
U Nonimmigrant Status is offered to a victim of certain crimes, like domestic violence and rape, who cooperates in the investigation or prosecution of her abuser. U Nonimmigrant Status allows a client and her family members to work and live lawfully in the U.S., and creates a pathway to their being able to obtain lawful permanent resident status. It also allows derivative family members living abroad to travel to the U.S. and reunite with the victim. After the summer, the firm will be responsible for continuing to represent the client and any derivative family members through the grant of U Nonimmigrant Status. There is no court appearance or interview associated with petitions for U Nonimmigrant Status.
Adjustment of Status for Approved U Nonimmigrants allows individuals with U Nonimmigrant status to apply for green cards. This remedy is available to U Nonimmigrants who fulfill several requirements including having been continuously physically present in the United States for at least three years since their original U Nonimmigrant approval. After the summer, the firm will be responsible for continuing to represent the client through the grant of lawful permanent residency. There are no court appearances or interview associated with this petition.
Each firm may request up to 2 immigration matters. Firms can specify a preference for VAWA Self-Petition, Battered Spouse Waiver, or U Nonimmigrant Status matters and we will try to honor preferences, but firms will be assigned matters based on case availability.
I felt like I was truly an attorney representing a client—a unique and thrilling feeling!
Download information about our Summer Associate Program
For more information
Hamra Ahmad, Esq.
Director, Law and Policy
HAhmad@herjustice.org
646.442.1173