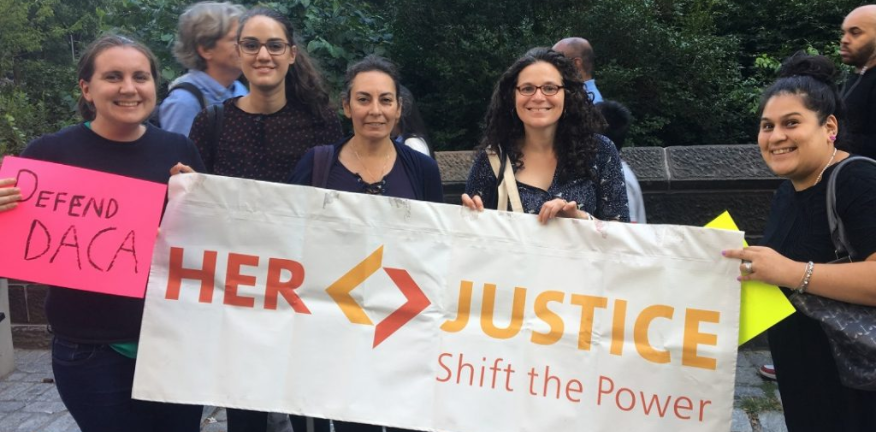 Immigration
Her Justice provides free legal help to immigrant women living in poverty in New York City who have experienced domestic violence or other types of gender-based violence and who are seeking to stabilize their immigration status in the United States.
We provide free information about the law and the various applications that can be made to the United States Citizenship and Immigration Services (USCIS).
To obtain immigration assistance from Her Justice, individuals should call the New York City Family Justice Center in the borough in which they live (find your local center here).
We also advise women about their rights and options for applying for lawful status in the United States. If we cannot assist an individual, we will provide referrals to other agencies and resources that may be helpful to her. In as many cases as we can, we provide free volunteer lawyers to assist women in seeking lawful status. The types of cases that we handle most frequently are described below.
Click Here for Important Immigration Policy Updates >
Immigration Cases Her Justice Handles Most:
Self-Petition for Battered Spouse and Children under the Violence Against Women Act (VAWA)
The federal Violence Against Women Act (VAWA) permits undocumented immigrant survivors of domestic violence who have married citizens or legal residents of the United States to ask (petition) for lawful permanent residency in the US without relying on the abusive spouse's help. If you have a child or children under the age of 21, you can also apply for lawful permanent residency in the U.S. for your child(ren). Children of US citizens and lawful permanent residents and parents of US citizens who are the victims of abuse may also be eligible to Self-Petition for lawful status in the US.
Waiver of the Joint Filing Requirement to Remove Conditions on Lawful Permanent Residence ("Battered Spouse Waiver")
Immigrants married to US Citizens or lawful permanent residents for two years or less at the time that they obtain lawful permanent residency in the US are subject to a two year conditional residency period, after which they must file a joint petition with their spouse to remove the conditions on their residency.  Individuals who are subject to "battery" or "extreme cruelty" may be able to file a waiver of this joint petition so that they can obtain their permanent residency without the involvement of their abusive spouse.
U Nonimmigrant Status ("U Visas")
VAWA also permits undocumented immigrants who are victims of certain crimes, and who are, have been or are likely to be helpful in the investigation or prosecution of the crime, to petition for U Nonimmigrant Status (a "U Visa") in the United States.  A U Visa may provide a path to lawful permanent residency and, eventually, US citizenship for these individuals, their children under age 21 and certain other family members
T Nonimmigrant Status ("T Visas")
Individuals who have been subjected to "severe" forms of sex or labor trafficking may be eligible for T Nonimmigrant Status (a "T Visa") to allow them to apply for lawful status in the United States if they are willing to assist law enforcement in the investigation or prosecution of the trafficking crimes against them. The T Visa also allows eligible individuals to apply for lawful status for their children under age 21 and certain other family members.
Types of immigration cases with which Her Justice cannot assist:
Family petitions
Special immigrant juveniles
Asylum or refugee cases
Temporary protected status
Get Help
Myrna talks about the help Her Justice and the legal team provided with her divorce and immigration case.
Please read if you have you been impacted by the decision to terminate the DACA program.
---
Augusta's Justice
Augusta*, a Colombian citizen, was brought to an immigration detention facility near New York City after her ex-boyfriend and abuser reported her to immigration authorities so that he could take custody of their daughter and punish Augusta for leaving him.
One day last summer, he called Augusta asking to see their daughter, of whom they had shared custody, on a day that he normally did not see the child and Augusta took her daughter to Andy's house for an overnight visit. The next morning, Augusta was arrested by U.S. Immigration and Customs Enforcement at her home.
Read the whole story
Find out if Her Justice can help you