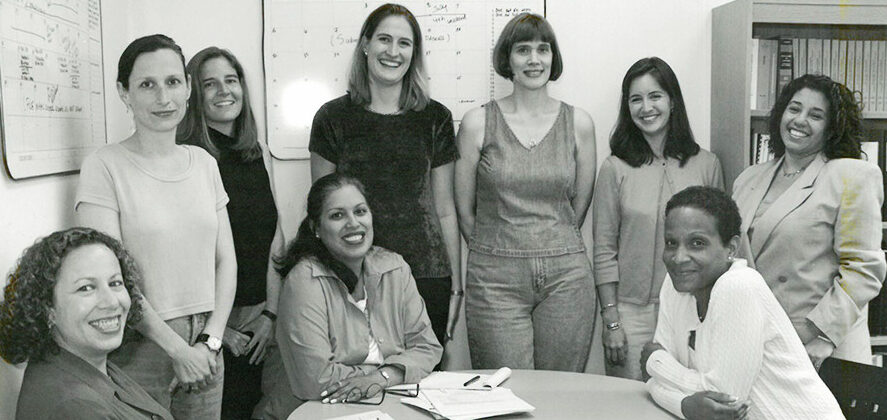 25 Years of Her Justice
This year Her Justice celebrates a quarter century of enabling women living in poverty in New York City to access the legal system. Her Justice Executive Director, Amy Barasch, talks about 25 years of Her Justice.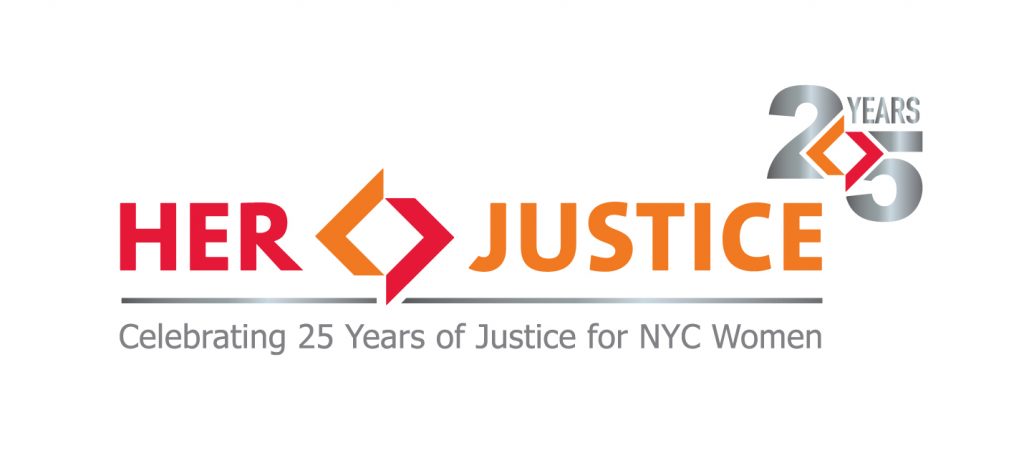 Read our news release here

Celebrating 25 Years of Justice
View our 25th Anniversary Book!
*
Her Justice is 25 years old this year!  When we launched in 1993, Sleepless in Seattle was released, Harvard tuition was a mere $23,514.00 a year, there was a siege in Waco, Ruth Bader Ginsberg was appointed to the Supreme Court, and Whitney Houston was topping the charts with 'I Will Always Love You.'
And Cathy Douglass, a partner at Willkie Farr & Gallagher LLP had an idea.
While on the board of a domestic violence nonprofit, Cathy helped them launch a legal program. Despite being overwhelmed with demand, the staff attorneys were unable to develop a pro bono component because they couldn't represent their clients and take on the additional task of recruiting, training and supporting volunteer lawyers. That's when the light bulb went off for Cathy.
Network for Women's Services
Network for Women's Services was born.  As a former teacher, Cathy understood how rich training and support would be essential to overcoming private attorneys' anxiety about working in new legal areas. As a "big law" attorney, she knew that support would have to come from trusted experts in the field. She also made the case over time that providing meaningful pro bono opportunities for private law firm attorneys would not only make them better lawyers, but encourage them to stay at firms where they could find a needed balance in their practice.
In the past 25 years, Cathy's vision grew from one determined ex-firm attorney, to a staff of 34 lawyers and non-lawyers, all pulling together to stand with women living in poverty in New York City.  We have always distinguished ourselves by training and mentoring volunteer attorneys to address the individual legal challenges faced by our clients.  Since we were founded, more than 30,000 women have had a champion by their side in court, and just as many lawyers have glimpsed what it's like to navigate the legal system, facing historic discrimination, overwhelmed courthouses, and often, a current or former partner who fights you at every turn.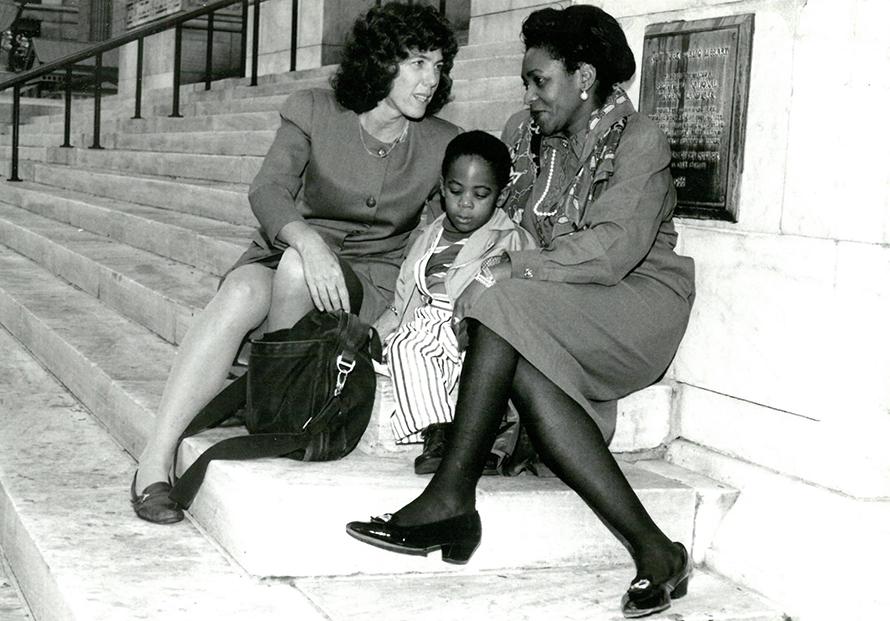 Unique "pro bono" first approach
Our unique "pro bono first" approach results in benefits for both volunteers and clients. Lawyers learn about the issues facing people living in poverty in New York City, and how things really happen in systems and courts.  And clients are able to stabilize their lives, enabled and heard by lawyers who work in marble-lined skyscrapers.  Both groups tell us they become different people after the experience.
Women and justice have always been at the core of why we exist. As we move into our second quarter of a century, I am honored to be at the helm of Her Justice, leading office and Board-wide conversations about the course we want to chart. As we look forward, we find echoes of our foundations in everything we want to do.
Three key goals propel us today: reaching deep into communities to identify and assist women who are isolated and underserved; developing a broad spectrum of pro bono opportunities to provide valuable experiences for legal and non-legal professionals; and finally lifting our rich experience with individuals into policy advocacy that can make change for so many more.
In recent months we have gone to a live intake system so that 100% of callers receive legal advice the same day they call. We have been reaching out to immigrant communities with 'Know Your Rights' clinics and helping them with family preparedness plans in case of sudden deportation during this fearful time of immigration crackdown.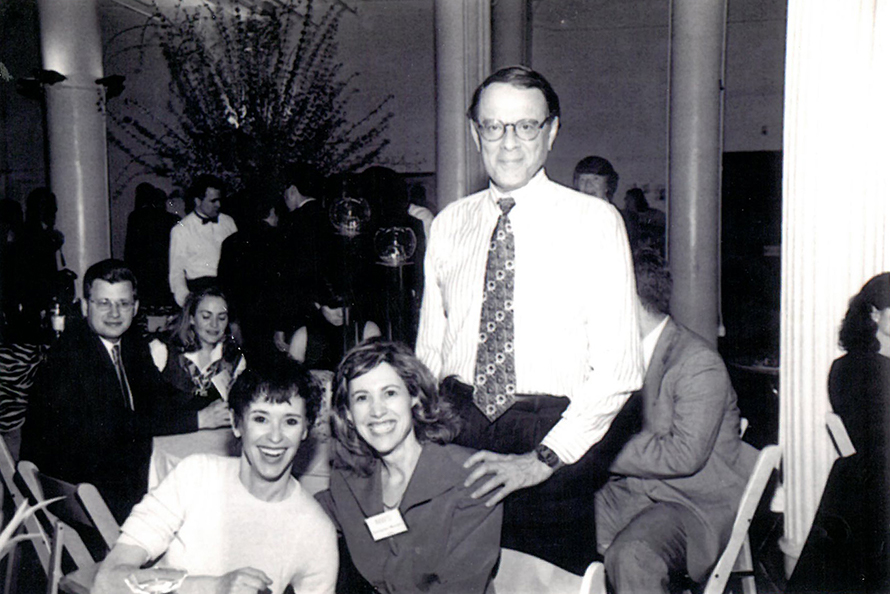 Her Justice has also been training medical professionals in NYU Langone Hospital in Sunset Park, Brooklyn, as a new intake point for otherwise isolated clients. Our goal is to expand our reach further into the community over the next five years, identifying cases from a wider pool and ensuring the clients we do work with are the ones who best benefit from our pro bono first model, all the while looking to identify additional volunteer roles for professionals outside of 'big law.'
In our policy and advocacy initiatives, we have been working with the courts to improve the likelihood that a mom raising her kids alone will receive child support from her employed ex-husband.  We have ensured that legislation permitting survivors of intimate partner violence to get paid leave to seek services, also allows them to obtain paid leave to consult with their lawyer. We will continue to push for policy changes, work with our volunteers to research legal issues, and start to publish reports that move the dial on systemic change.
25 years of ensuring women are heard in court
After 25 years, it turns out we know things! We know how and why family court doesn't work, where immigration policy has unintended negative consequences, why divorce should be as available to the poor as it is to the rich. After 25 years of ensuring women are heard in court, we are well positioned to identify where injustices still exist.  Twenty-five years ago private attorneys had no idea what really happened in the lives of women living in poverty; now tens of thousands of them do, and more learn every day.
Her Justice is dedicated to standing with women living in poverty, by training and mentoring volunteer attorneys, to ensure that we continue to shift the power to determined and resilient women for many more years to come.

Amy Barasch
Executive Director
Browse our anniversary timeline for highlights from our first 25 years.